2021 Infiniti Q60 car for sale at Oxnard Infiniti Dealership
Infiniti Q60 Trims
Pure RWD
$41,650 starting
Pure AWD
$43,650 starting
Luxe RWD
$50,200 starting
Luxe AWD
$52,200 starting
Red Sport 400 RWD
$55,750 starting
Red Sport 400 AWD
$57,750 starting
Design
Design That Knows No Bounds
Daring curves, deep creases, and flowing lines intensify Q60's low, wide, powerful stance. Signature elements like eye-inspired headlights and a double-arch grille make it unmistakably INFINITI. Progressive and modern, yet dynamic and moving, this is a new kind of sports coupe.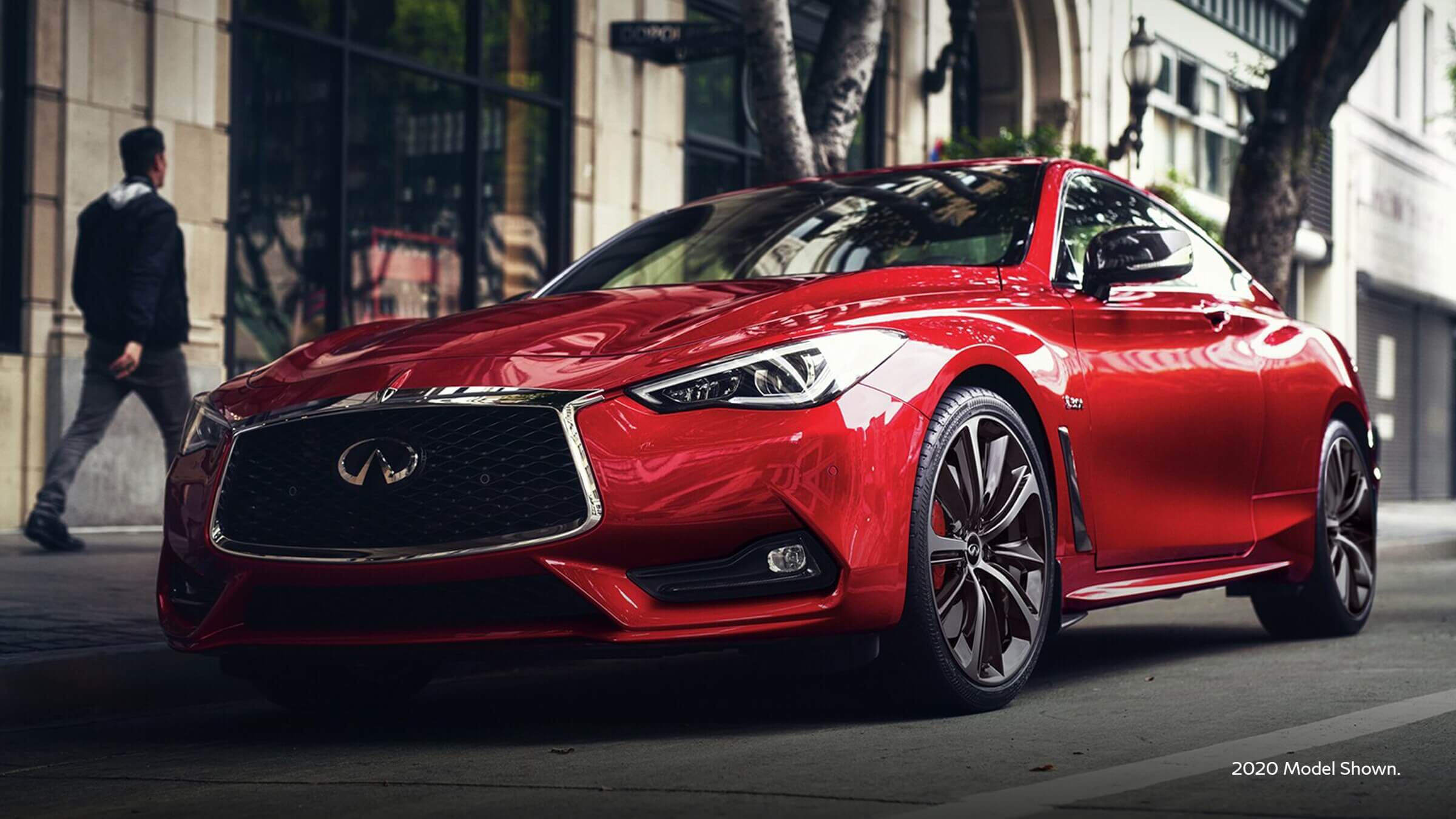 An Elevated Design Expression
The dynamic proportions make a purpose-built statement. Low enough to stick to the ground. Wide enough to deliver greater stability. With a low hood height for an unobstructed view of the road so you truly feel connected to everything around you.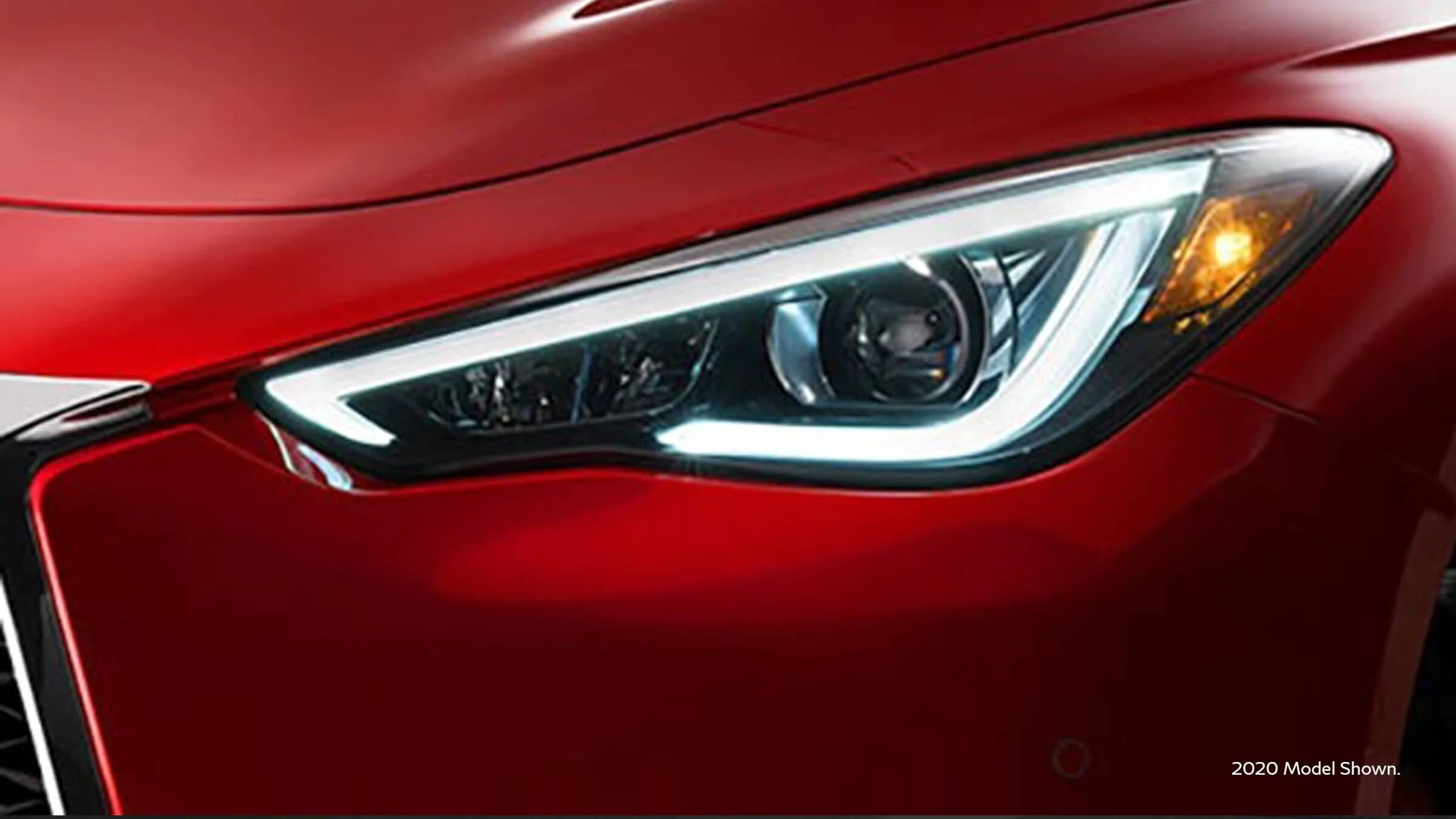 More Than Meets The Eye
Eye-inspired LED headlights give a provocative stare that can be seen from both the front and side. The optional Adaptive Front lighting System turns the headlights as you turn the steering wheel, following your gaze at intersections and around curves.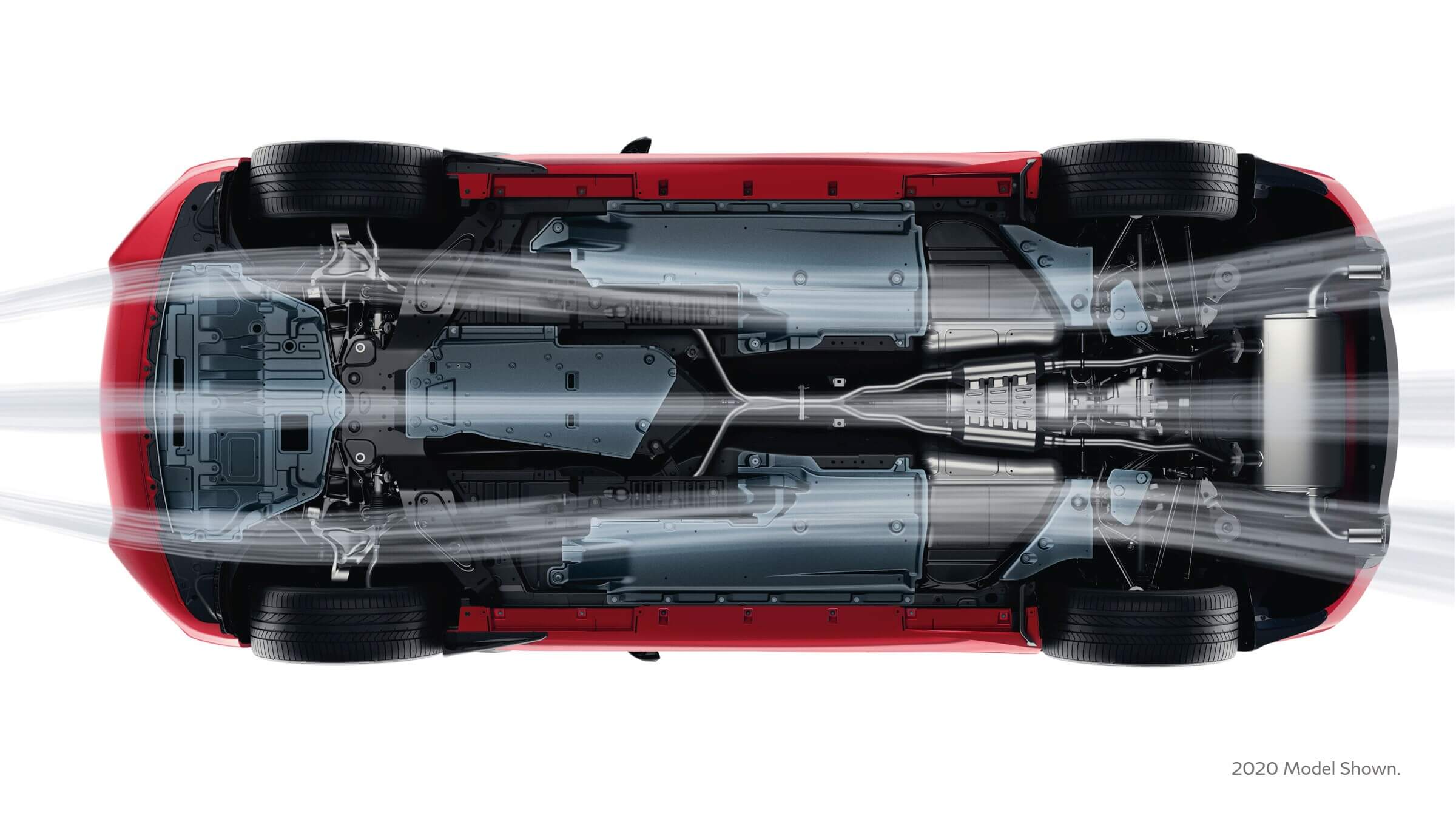 Zero Lift Front And Rear Aerodynamics
Q60 features a front and rear "Zero-Lift" aerodynamic design that helps keep the vehicle directionally stable at high speeds, helping to mitigate unforeseen aerodynamic effects to the vehicle's path. It also helps keep the vehicle more stable in cross-wind situations.
Technology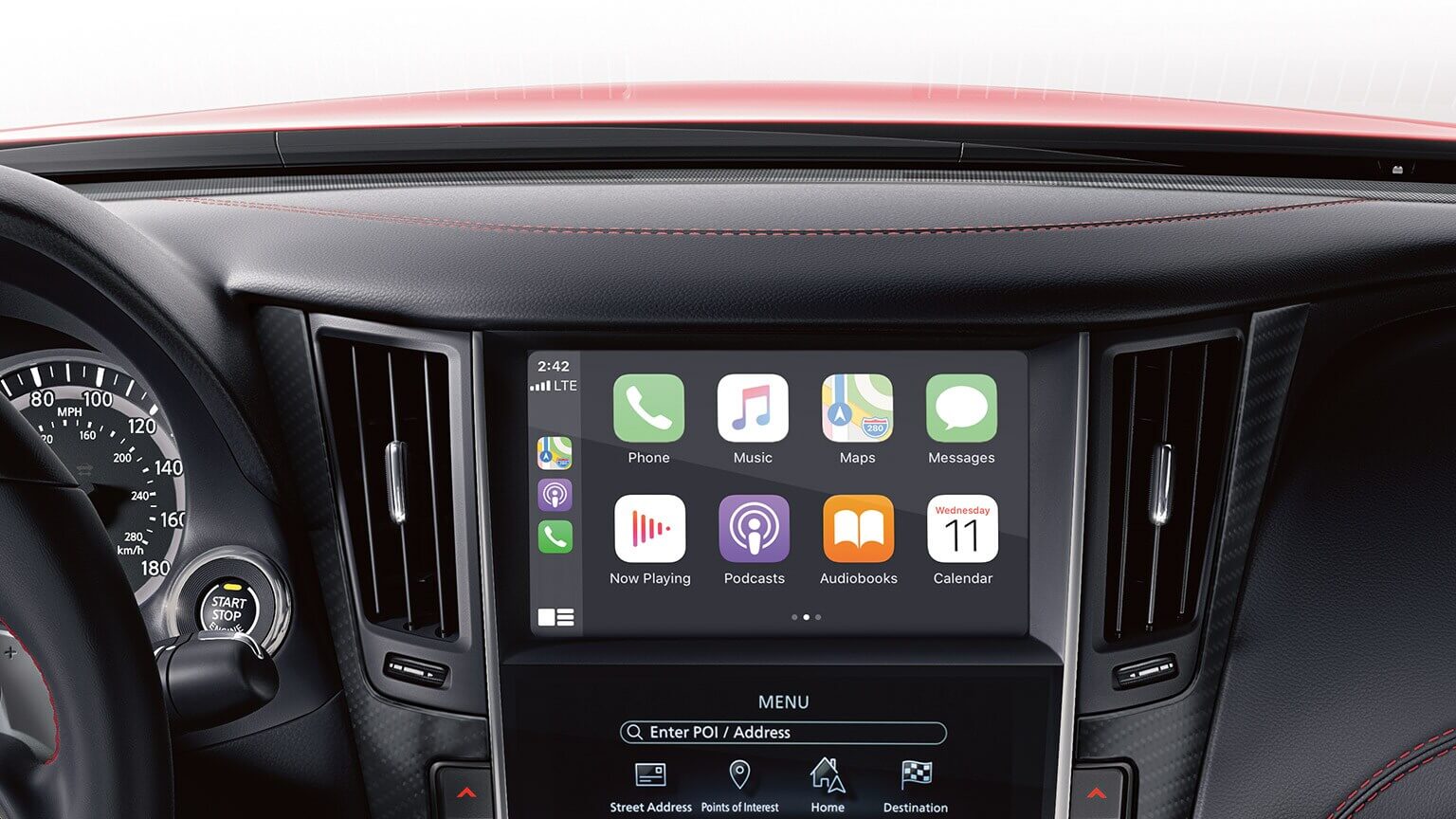 Apple CarPlay® Integration
Apple CarPlay® is the smarter way to enjoy the things you love with your compatible iPhone® while driving. Access Apple Music®, Apple Maps, make calls, send and receive messages – all hands-free. Just plug in your iPhone® and go.
Predictive Forward Collision Warning
Predictive Forward Collision Warning can alert the driver of risks that may be obscured from the driver's forward field-of-view. It senses the relative velocity and distance of a vehicle traveling in front of the car right ahead.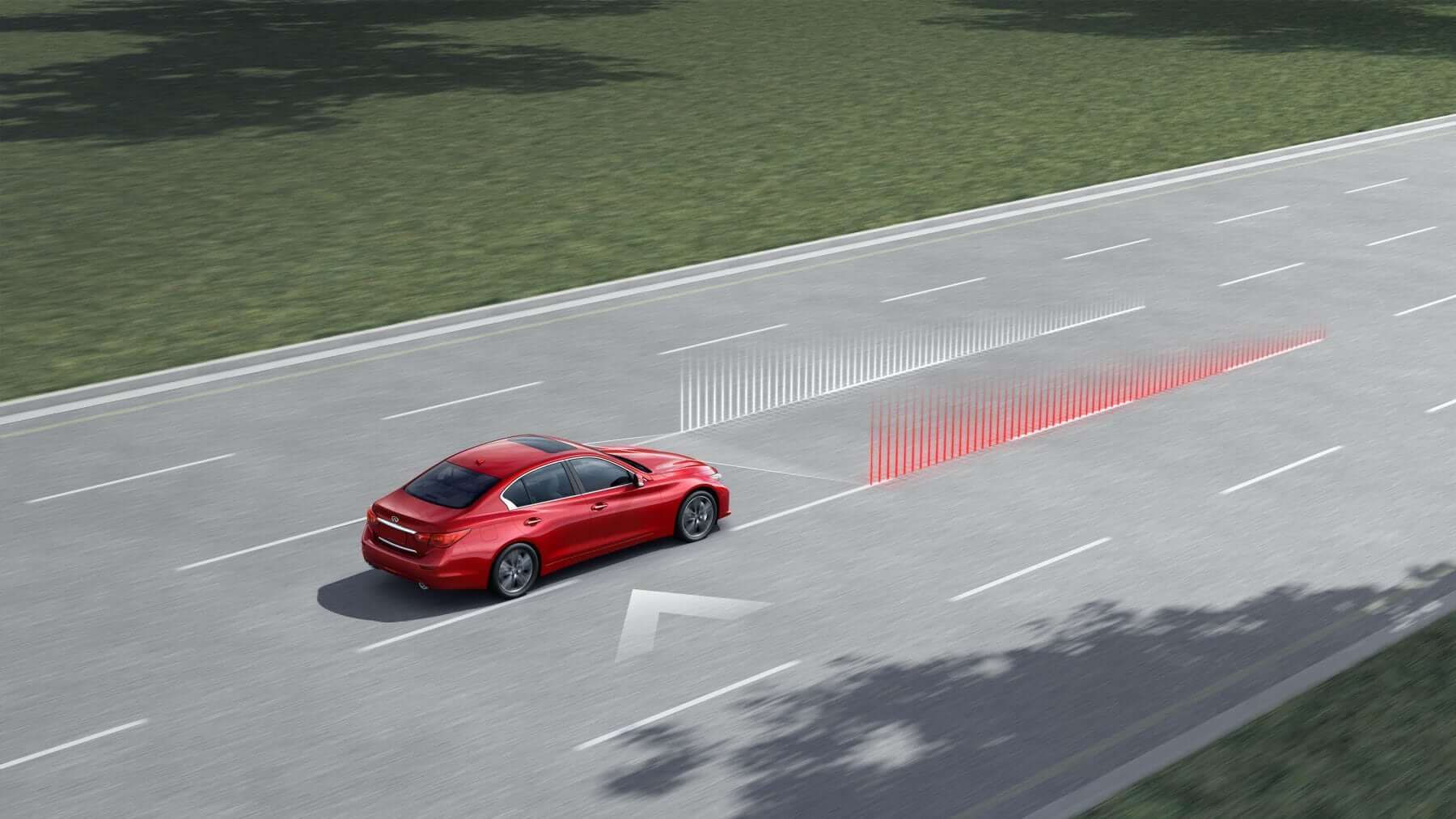 Lane Departure Prevention And Active Lane Control
Available Lane Departure Warning and Lane Departure Prevention systems can help warn the driver if they start to drift out of their lane and can even intervene if necessary. Active Lane Control monitors lane markers and evaluates the road conditions, while making fine adjustments to your steering.
Around View Monitor With Moving Object Detection
The available Around View® Monitor delivers advanced yet intuitive technology, helping to make parking easier. Four cameras positioned around the vehicle give you a virtual 360° bird's-eye view on your display. This INFINITI system is enhanced with Moving Object Detection — alerting you to moving objects detected within the display image. Offering a new perspective of the world around you, your INFINITI helps you navigate even the tightest spaces.
Blind Spot Warning And Blind Spot Intervention
INFINITI's available Blind Spot Warning System can help alert the driver to vehicles detected in the blind spot area. An indicator light illuminates if the presence of another vehicle is detected in the blind spot area. If the driver engages the turn signal, the indicator flashes and an audible warning sounds. And with the available Blind Spot Intervention®, if your Q60 begins to merge into a lane with another vehicle, the system will automatically help keep you in your lane.
Performance
Inventive In Motion
A 3.0-liter V6 twin-turbo engine that can put up to 400 horsepower on the road. INFINITI cutting-edge technologies put you in position to manage your performance, with more power when you need it most.
300 HP 3.0 Liter V6 Twin Turbo Engine
Tap into 300 horsepower and 295 pound-feet of torque, quicker than you ever imagined. A variant of the V6, it propels you beyond measure, courtesy of a lightweight aluminum engine, friction-reducing technologies, plus cooling and valve timing systems.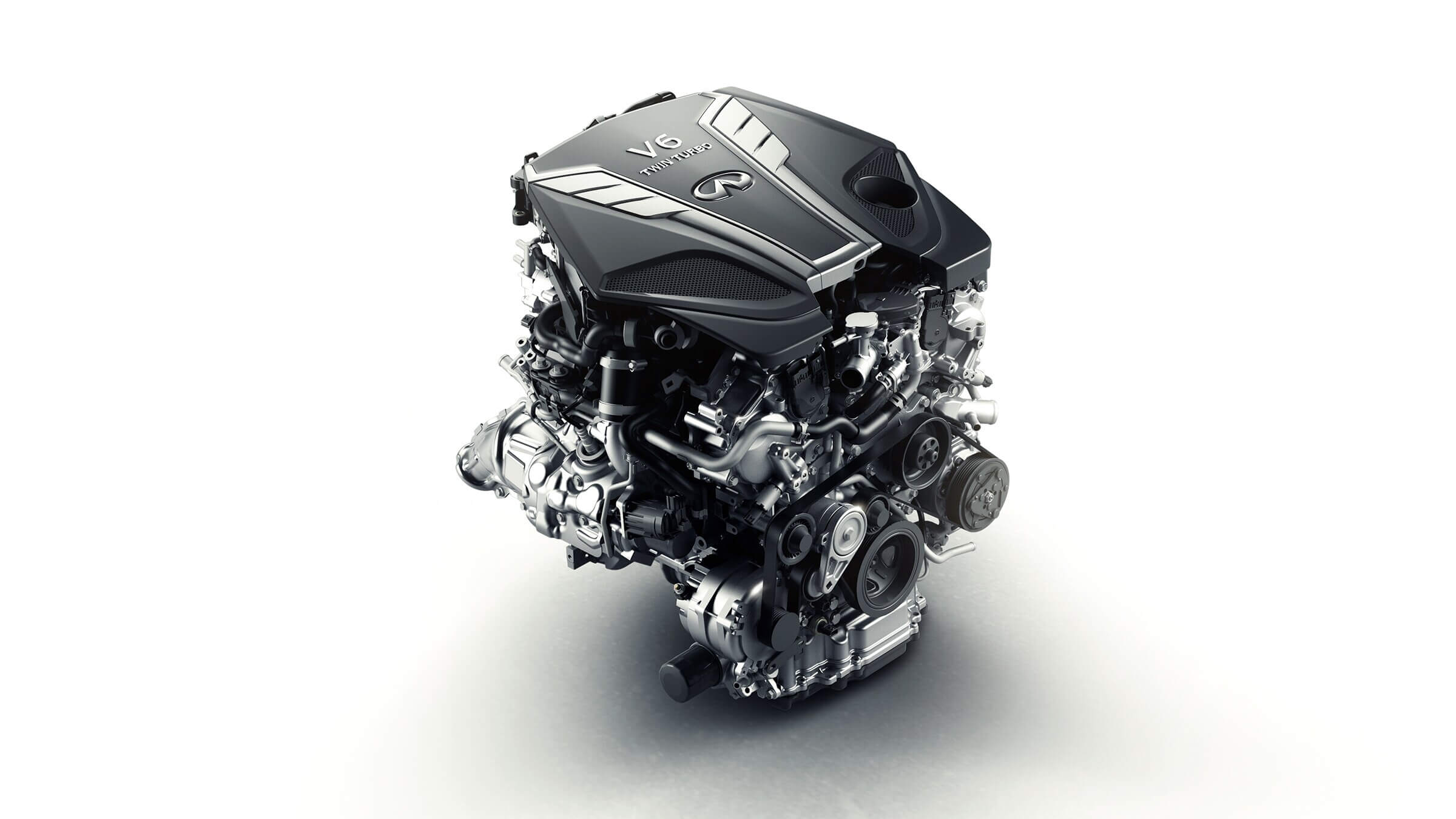 400 HP 3.0 Liter V6 Twin Turbo Engine
Standard on the Q60 RED SPORT 400, the V6 twin-turbo's 350 pound-feet of torque builds quickly and power pours out like an endless flood. Acceleration is instant and feels limitless. Direct Injection Gasoline, water-cooled air charging, a turbo speed sensor and advanced turbine blade design make for quicker response and a higher peak.
Dynamic Digital Suspension
The Q60's available Dynamic Digital Suspension can adjust continually to corners and road imperfections, striking an ideal balance between performance and cushioning for something revolutionary. Drivers can also take control with the flick of a switch, manually switching from the comfort-bias to a sportier ride, highly responsive and personal to heighten your driving experience.
Direct Adaptive Steering
After many years of research and development, Q60's optional Second-generation Direct Adaptive Steering® is here to revolutionize how we drive. This system digitally and instantaneously transmits your steering input directly to the wheels. Its digital processing power lets you steer quicker and smoother than you ever imagined. When you are driving on rough or uneven roads, the system is constantly, automatically making subtle adjustments to give you an increased feeling of stability, while decreasing vibration through the steering wheel.